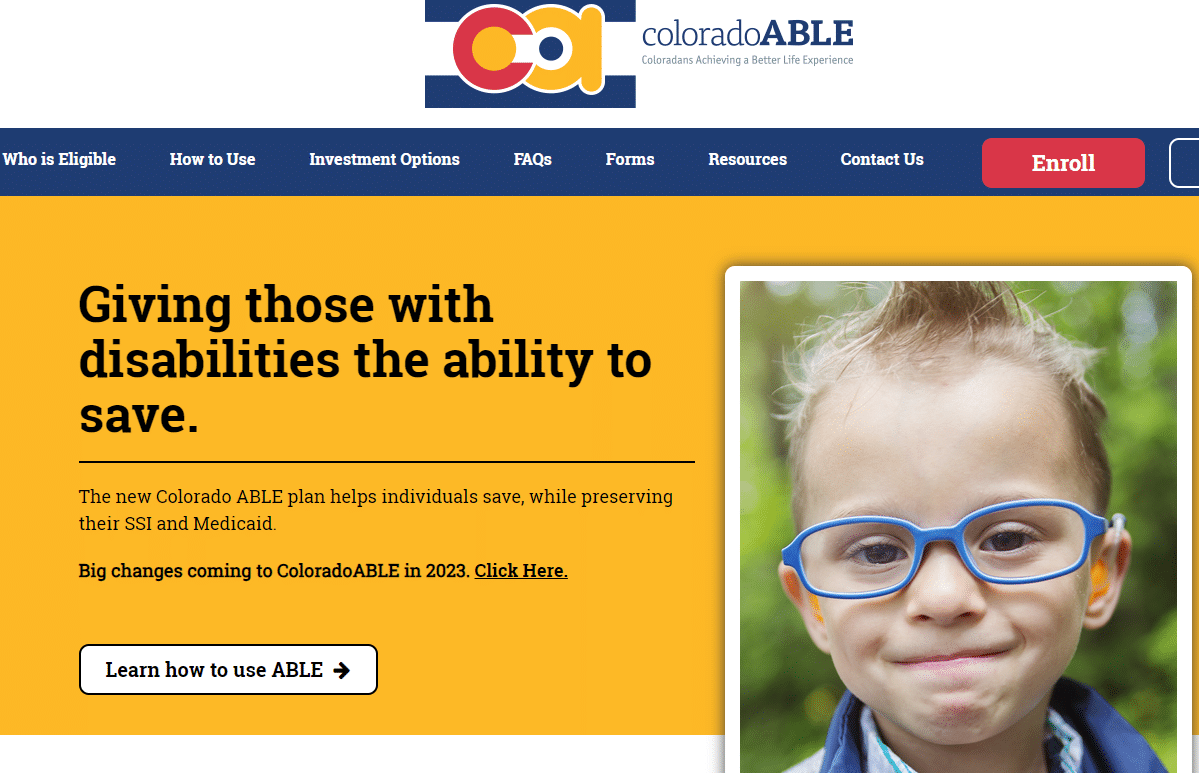 Courtesy of the Colorado Able Website and the State of Colorado.
By Eliza Marie Somers
Saving money while on federal assistance is nearly impossible for many brain injury survivors as they risk losing their Medicaid coverage or Supplemental Security Income (SSI).
For example: to be eligible AND remain eligible for Medicaid a person cannot have more than $2,000 in their bank account. This creates a culture of people with disabilities unable to work because of the real danger of losing their healthcare.
However, the State of Colorado is making it easier for survivors and their families to get a leg up when it comes to their finances. During the June 9, 2023, Brain Injury Hope Foundation Survivor Series: ABLE Accounts: Saving Money for Your Future While Protecting Your Eligibility for Public Assistance Programs Mike Keglovits discussed recent changes to Colorado ABLE accounts that benefit people with disabilities. For more information on Colorado's ABLE accounts visit https://www.coloradoable.org/
"ABLE accounts allow people to put money into an account that is not part of the calculation for Medicaid or SSI," said Keglovits, who is the manager of Colorado ABLE for the state.
The Achieving a Better Life Experience (ABLE) Act of 2014 allows states to create tax-advantaged savings programs for eligible people with disabilities (designated beneficiaries). Funds from these 529A ABLE accounts can help designated beneficiaries pay for qualified disability expenses. Distributions are tax-free if used for qualified disability expenses.
Significant improvements to Colorado's ABLE accounts went into effect in January 2023 making it easier for people with disabilities to create sustainable financial independence through long-term savings. Those improvements include:
A provision that the state can no longer file "Medicaid clawbacks" after the death of the designated beneficiary. The previous practice allowed for the capture of funds to reimburse certain Medicaid expenses, and ultimately discouraged participation by placing private savings at risk.
Tax benefit that allows for dollar-for-dollar state tax deduction for contributions made into a Colorado ABLE account.
A person other than the individual with a disability can now open and administer an ABLE account on behalf of a person with disabilities to broaden access and ease of use.
However, certain requirements must meet before an individual or their caretaker can open an ABLE account. The main qualification is that the injury or disability had to occur before the age of 26. That age requirement will increase to age 46 in 2026. To be eligible a person must be receiving Social Security Disability Insurance or SSI. Or a person can self-certify via their doctor AND that self-certification must be done every year to remain eligible for the savings accounts.
Keglovits recalled a story about a 70-year-old gentleman, who sustained his disability before the age of 26 and with certification became qualified to open an ABLE account.
If the person with the disability is under the age of 18, a parent or guardian can open an ABLE account and once the beneficiary turns 18 it can be managed by the person with the disability.
A person can save up to $17,000 a year in an ABLE account with a lifetime maximum of $500,000, and anyone can contribute to an ABLE account. Keglovits explained a person who is working and earning income may be eligible for an increased annual contribution if they are under the federal poverty limit.
Keglovits did caution there is a limitation on savings to remain eligible for SSI benefits. The restrictions are:
Balances of $100,000 or less are excluded from your SSI resource limit.
Only the amount OVER $100,000 is counted against your limit, along with assets held in non-ABLE accounts.
If your account causes you to exceed the SSI resource limit, then your SSI benefits will be suspended until the account balance no longer exceeds your resource limit.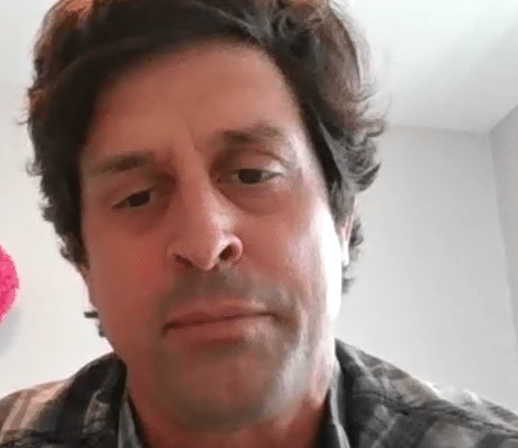 Manager of the Colorado ABLE accounts Mike Keglovits says ABLE accounts work in conjunction with trusts.
Qualifying expenses
ABLE accounts allow beneficiaries to pay for expenses that are not allowed with first- and third-party trusts.
"ABLE accounts won't replace a trust," Keglovits explained, "they work in conjunction with a trust."
Under special-needs trusts funds cannot be used for groceries, rent, mortgage, property taxes or utilities, but an ABLE account expands the beneficiary's ability to pay for everyday expenses.
According to ColoradoAble.org qualifying expenses with an ABLE account are incurred as a result of living with a disability and are intended to improve your quality of life. Expenses include, but are not limited to:
Basic living expenses
Education
Health and wellness
Housing
Transportation
Legal fees
Financial management
Employment training and support
Assistive technology
Personal support services
Oversight and monitoring
Funeral and burial expenses
There is a checking/debit account option with an ABLE account through Fifth Third Bank, and account owners should keep documentation of all distributions of qualifying expenses. An ABLE account also allows saving for future needs with six investment options ranging from conservative to aggressive investment opportunities through Vanguard.
Keglovits explained Colorado uses Fifth Third Bank because it is the only bank offering ABLE checking accounts, and that many states don't allow a checking account option with their ABLE accounts.
"We like that aspect of the bank," Keglovits said, adding that the virtual banking experience is easy to navigate along with the option of telephone banking.
"The customer service is great," he said. "I have never waited more that 15-20 seconds."
Fifth Third Bank has locations in Ohio, Florida, Georgia, Illinois, Indiana, Kentucky, Michigan, North Carolina, South Carolina, Tennessee and West Virginia and is FDIC insured.
Opening a Colorado ABLE account is not limited to Colorado residents. Anyone in any state can open an account through Colorado's ABLE account program, Keglovits said. The ABLE National Resource Center (ablenrc.org) allows people the ability to compare state programs with an easy map tool at https://www.ablenrc.org/select-a-state-program/. The ABLE National Resource Center website (ablenrc.org) also includes useful resources including podcasts and webinars.
It takes only $25 to open an ABLE account, and to help people with disabilities start a savings account Keglovits said the state of Colorado will give you $25 to start a Colorado ABLE account through June 2023.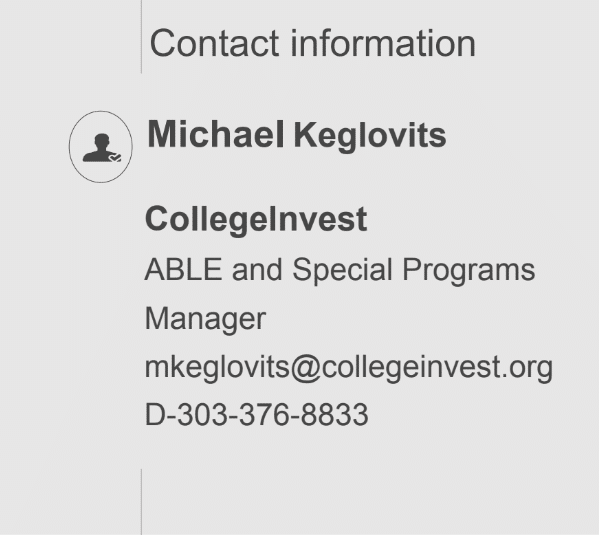 What is Colorado ABLE
Colorado ABLE (Achieving a Better Life Experience) is the state's savings program for people with disabilities. A non-profit agency within the Colorado Department of High Education that receives no taxpayer funding, Colorado ABLE provides a diverse menu of tax-advantaged savings plans to help persons with disabilities save for their futures and promote independence, while protecting their eligibility for public assistance programs. Earnings on Colorado ABLE savings accounts are federally tax free when used for qualified disability expenses.