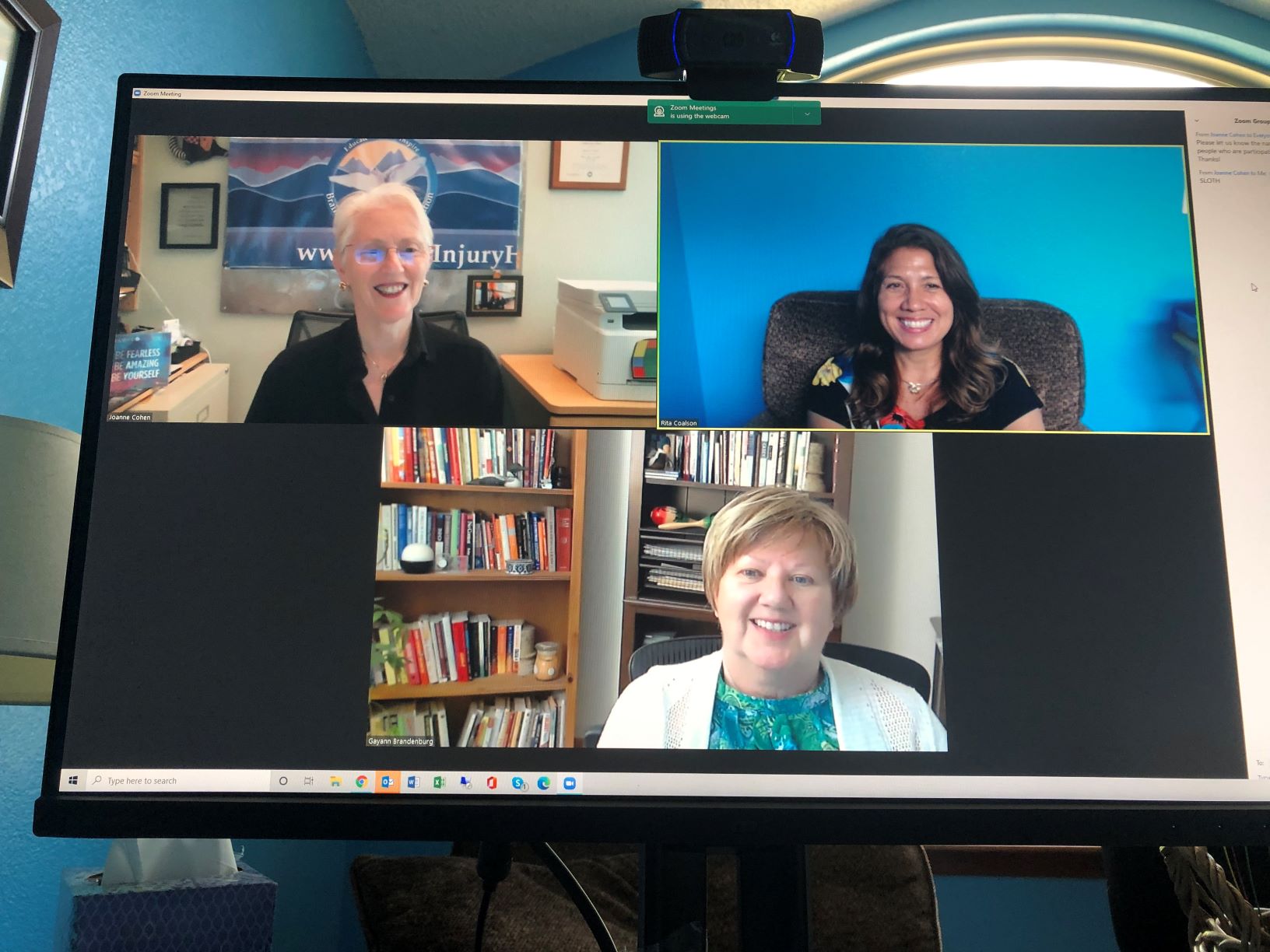 BIHF Vice President Joanne Cohen, top left, Rita Coalson, MA, LPC NCC, and BIHF President Gayann Brandenburg, bottom, facilitate the Benefits of Counseling Following a Traumatic or Acquired Brain Injury on July 17, 2020. 
Counseling may be the furthest thing from someone's mind during recovery from a mild traumatic brain injury (mTBI), but it might just be the best thing a survivor can do for their well-being. 
During the second virtual installment of the Brain Injury Hope Foundation's Survivor Series of 2020, Benefits of Counseling Following a Traumatic or Acquired Brain Injury on July 17 via Zoom, Rita Coalson, MA, LPC NCC, and Joanne Cohen, vice president of the BIHF, discussed ways in which a counselor can help survivors, along with some useful tips
"A TBI is a chronic illness, and counseling can help you with what you are going through," Coalson said. "We can put a label on it, give it some verbiage. That can help you as you recover. Counseling can also help educate the people around you and explain to them what you are going through."
Counseling is about gaining your power back, and giving a survivor a sense of control over their environment can go a long way in helping with recovery.
"Counseling can help empower you," Coalson explained. "A brain injury comes with trauma, but if we can empower you it can help you figure out a way to move forward. By asking 'Am I OK with who I am? Where do I want to go from here? What is my new normal?' People want to get their original lives back. We can help you find a silver lining." 
But what could be a silver lining of having a brain injury you might ask?
"Being more compassionate to yourself," Coalson said. "You have grief because you are dealing with the death of who you were. And your family and friends are grieving, too. … It's OK to change, and come up with what you CAN do. And acceptance of that can be a long journey."
So take time to recognize and honor the grief you are suffering by finding space and time to take care of you. 
Covid-19 and Recovery
The coronavirus pandemic adds another layer of grief and discomfort to the recovery process, and Coalson suggested some things a survivor can do as we all navigate this new normal. 
In some ways, BI survivors are already dealing with some of the results of the Covid-19 crisis – isolation, loneliness and seclusion being the big challenges. 
"Isolation comes with brain injuries," Coalson said. "There may be noise sensitivity, light sensitivity that kept you from community, and now it's doubly. You are dealing with grief. Covid is a loss. A loss of community. A loss of not being able to see family and friends. A loss of not going to a restaurant."
But it's a different type of grief, Coalson explained. 
"It's anticipatory grief," she said. "You get anxiety, stress around it. You get worked up. It's all about the unknown that causes the stress and anxiety. We (counselors) can help you acknowledge that loss. It is kind of scary. It's all about the unknown and now it's a double whammy.
"So how do we deal with that? One breath at a time," she continued. "Take a step back. You have done a lot to get to where you are at right now. So maybe talk to someone on Zoom, Facetime. Practice self-care. It doesn't have to be a whole hour. It can be 5-10 minutes of time for yourself. We can't be joyful 24/7. 
"During Covid it's OK to have boundaries. We do a lot of care for others, now it's time to focus on you. There are days where it's just OK to take care of you."
During the pandemic a counselor might not be seeing patients face-to-face, but that should not hinder a survivor from seeking therapy. 
"I started out in hospice, and we did a lot of phone work. So I'm comfortable with phone work," Coalson said. "Ask your therapist if they are OK with phone work, or doing a Zoom meeting."
Speaking of counselors what should someone look for when searching for a therapist?
 "A counselor can have a master's degree. They can be social workers," Coalson said. "Ask if they have their own therapist. Who do THEY talk to? We all get triggered. It's OK to ask. And Ask about their training. 
"Realize not everyone is a fit. Do you feel like you can be yourself?" she continued. "And remember it's never about the therapist's agenda. It's about you. Be upfront, be honest. 
"It takes a lot of courage to go to a therapist if you were not raised in that culture. Your life has changed, and it affects a lot of things. We can give you some tools to get back to your best self."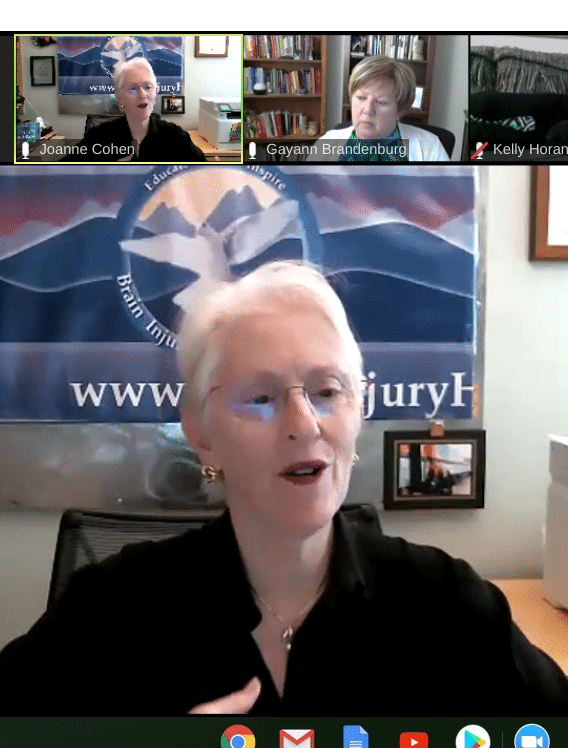 Joanne Cohen facilitates the BIHF Zoom Survivor Series Seminar on the Benefits of Counseling Following a Traumatic or Acquired Brain Injury. 
Recovery is a Process
Just as there are stages in physical recovery there are phases in mental recovery after a brain injury.
"I call them tasks not stages of grief, because you go back and forth in stages" Coalson said. "You just don't go from one stage to another. It's a process. And that's the frustrating part. 
 "A grieving person with a mTBI is trying to live their life and trying to get others to understand," she explained. "Your kids don't know who you are and they are grieving, too. We can help with family support, setting boundaries, educating your family because they are grieving. Give yourself permission to say it's OK to not be able to handle all the things you did before. Find out what you can do now. Advocate for yourself."
Addictions, Depression and Suicidal Thoughts
Some people use alcohol or drugs to help them deal with the changes, but Coalson said there are ways to help someone who is struggling with addictions and depression. 
"Addictions are not just drugs and alcohol," Coalson noted. "A person could be a workaholic and be missing their family's lives. Everything in moderation. I don't tell someone to quit something unless they have a replacement. I can help that person find a replacement, be it exercise, art, AA.
"And a therapist can help you cope with some deep dark places that you go to. There are support groups we can suggest.
"We can come up with a safety plan and be adamant about it. Find someone who you can you talk to in your life. Do that first and commit to it. A lot of times suicides happen when no one is available," she said.
Helpful numbers
Colorado Crisis Center 844-493-8255 (TALK) Text 38255
https://coloradocrisisservices.org/
National Suicide hotline 800-273-8255 (TALK) or text 741741 Deaf and hard of hearing: 800-799-4889.
NOTE: In 2022 the line will change to 988. 
https://www.wthitv.com/content/news/FCC-approves-changing-Suicide-Prevention-Lifeline-number-to-988-571838321.html
https://suicidepreventionlifeline.org/
And every state has mental health centers, so please find yours and keep the numbers handy.
Dealing with Fatigue
No you are not imagining it! You are tired, exhausted, even more so after a brain injury. Why? Because it takes more brain power just to do everyday tasks, such as brushing your teeth, making coffee, taking care of the dog. 
"A lot of people with mTBIs look fine, however they are operating on limited reserves as it takes more energy just to get through a normal day," Coalson said. 
By the end of the day, mTBI survivors have used up what used to be reserve energy, and find they are exhausted and cannot go out to meet friends or family, or even enjoy a Facetime call.
"A counselor can help you come up with a backup plan if you don't feel comfortable with saying you are feeling fatigued," Coalson said. "Give yourself permission to set boundaries. Figure out what you can control, such as go to that Thanksgiving party, but leave early."
Relationships After Brain Injuries
Don't kid yourself. A brain injury will disrupt your sexual relationships. 
"The way you look at yourself has changed and that affects your sex drive," Coalson explained. "Your self-image is already vulnerable. You don't feel good about you. So it's about delicate communication. You have to do this as a couple. It takes a little effort, but it's workable. And you have to have a partner who wants to work with you. You can't do it alone."
Also check with your medical doctor about a disruption in the hormonal process. It has been proven that a brain injury can damage the hypothalamus and/or pituitary gland, which can result in hormone imbalances.
What we say to ourselves and ruminating can be helped by talking to a therapist.
"Remember we can be our own worst enemy with all the self-talk," Coalson said. "A therapist can help you with your thoughts. A therapist can be another voice, another support system, who can show you how to look at things with simple fixes."
It Takes Work
A counselor can help survivors see things in a new light and introduce ways in which to do things differently, but the patient has to be willing to do the work.
"Think about school, if you just sit there and don't do the work you won't get much out of it," Coalson said. "It's the same with therapy. You have to work with me or you will be a bystander. No one is a fix all. My job is to get you to the next phase, and get you some support. We can help you tweak ways in which you do things, but you have to willing to do the work. It can't be me just telling you things
"And be honest with your therapist. If they suggest something that you are not going to do, say so. We can come up with a different strategy. You are your own advocate in our sessions."
Coalson went on to explain that being your own best friend might be the best thing you can give to yourself.
"Slow down. Give yourself permission to be in the moment. Grief is a garden of compassion. You would not talk to your best friend the way you talk to yourself. Be your own best friend."
By Eliza Marie Somers