By: Regina Schoenfeld
Close to 5.3 million U.S. residents live with a disability related to a Traumatic Brain Injury (TBI). When we consider that 21% of Colorado's population has Latino or Hispanic roots, and some proportion of this population is not fluent in English, we can begin to understand how many TBI survivors need access to resources, treatment, and support, provided in Spanish.
Thanks to grants and donations from Mindsource Brain Injury Network, Craig Hospital Foundation, Dr. Steve and Debbie Cohen and the Centennial Rotary Club, along with the efforts of a dedicated group of volunteers, The Brain Injury Hope Foundation (BIHF) launched a pilot to present a session of its "Survivor Series" in Spanish. This effort provided information and hope for the Latino/Hispanic community in Colorado and the rest of the country.
"A Talk about Brain Injuries " was held on Friday, September 9, 2022. Our host, Dr. Ricardo Esparza, opened the session with some words of encouragement for the participants, encouraging them to move forward.
Our panelists, Dr. Oscar Sanchez, Dr. David Mirich, and therapist Noelle Mitchell, MA, CCC shared their experiences and advice with an audience of 73 people, including a highly engaged group of 23 Longmont community members participating from Longmont Senior Services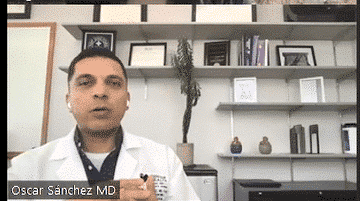 Name: Dr. Oscar Sánchez MD
Specialty: Head of Physical Medicine and Rehabilitation
Motivation: My sister is a physiatrist, and I became interested in this career because I saw what she does. I love this specialty because it is very dynamic, and we handle a variety of patients. Our goal is to improve the function and quality of life of those who have suffered a disability.
Name:
Noelle Mitchell, CCC-SLP, MA
Specialty: Cognitive Neurotherapist, Works with adults and children.
Motivation: I had the opportunity to study with Dr. Keatley and I like to apply what I learned to help patients with the rehabilitation of their cognition and language.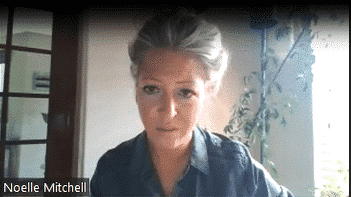 Name: David Mirich PhD
Specialty: Clinical Psychologist. I do neuropsychological evaluations for people who have suffered a brain injury.
Motivation: I started as a bilingual school psychologist, and then I started doing evaluations of patients with brain injury. Half of them are Spanish speakers, so I wanted to help them.  I love working with this community.
The most common causes of brain injuries are: physical trauma (traffic accidents, often due to drunk driving or drug use), falls in older people, work accidents and people using scooters without helmets. There are also many minor traumas that usually do not present to level 1 hospitals – for example, sports injuries in young people. Another less reported cause is domestic violence. This may be because patients do not know if they have suffered a TBI, or because they are not evaluated for this type of injury. The shortage of Spanish-speaking doctors and psychologists increases these disparities, as many patients fail to establish a lasting relationship with a medical provider who can listen to and advise them.
The barriers most frequently encountered by Spanish-speaking patients with respect to obtaining care for their TBI are language, the lack of empathy from doctors, and the lack of time to care for all patients. Other barriers can be cultural, such as the shame of being perceived as weak for seeking help from a psychologist, and the tendency of Hispanics to accept the services provided to them, rather than fighting for the care they deserve. A neuropsychologist is a person who has studied both psychology and advanced testing for neurological problems such as brain injury. A neuropsychologist understands how the brain works and can make a very specific evaluation and provide information to make a more effective management plan with medications and therapy.
The most problematic symptoms in TBI patients are such things as behavior changes such as anger or depression, poor memory, physical and mental fatigue, lack of attention, slow brain processing, visual difficulties, sensitivity to sound, dizziness, poor nutritional intake, and isolation. Considering the needs of the immigrant community, these problems can also lead to physical complications such as diabetes due to poor diet.
What is the importance of family? It is very important, especially since families generally do not understand what has happened to their loved one. Latino families have an advantage because they are so close-knit, and therapists need to teach the family how to support their loved ones at home. Family support is more important than rehabilitation, medicines, etc. It is important to note that families are also traumatized and want to know when their loved one is going to get better. The most difficult thing about medical care is to explain to the families what is going to happen, because the trajectory of each patient is different. We can only make a few predictions, and say that the more severe the injury, the longer it will take for cognitive recovery, and the recovery time may be shorter with less severe injuries.
According to Dr. Mirich, the medical literature tells us that the vast majority of people with TBI recover in 90 days, while 5-15% of people do not recover, and these are the patients who need the most care and whose recovery will take a long time.
Question for panelists… What helped your patients get better? Tell us about a single miracle:
Visualize that they are doing something, to make it easier to remember auditory information.
Neuroplasticity: The brain can repair itself, or sometimes only with the passage of time or sometimes with cognitive rehabilitation. The miracle is genes. The problem is finding a Spanish-speaking doctor to oversee cognitive rehabilitation.
The family: His family was very supportive of a young man who was injured and in a coma. One of the key things was that I was always with the family, explaining the process. They never lost faith. They told me I was the only one keeping them in the loop. After he regained consciousness, I sent him to Craig Hospital. He was there 3 months, and was able to learn to walk, talk, etc. even though he obviously had cognitive issues. I saw him a year later, with terrible behavioral problems, and aggression. His family would call me for help during the pandemic. I had to give him specific medicines. But the story goes that the family was always there and I was also with them, giving them advice and supporting them within the system of therapists, etc. Today, he still has problems because it was a very severe injury, but he has quality of life. He interacts with his children.
Resources mentioned:
Brain Health Fair: Saturday, October 15 – from 10 am to 1:00 pm. Fulginitive Pavilion University of Colorado 13080 E Avenida 19, Aurora, Colorado 80045
Book: "Mild Traumatic Brain Injury: A Survivor's Guide" by Theta Theta No Beta and Brain Injury Hope Foundation. Contact Clearfocuspress@gmail.com to purchase a copy
Brain Injury Alliance of Colorado: They offer services in Spanish. Call 303-355-9969 or go to: https://biacolorado.org/
Colorado Cross-Disability Coalition: Jose Torres-Vega, 720-249-2206, jtvega@ccdconline.org. Colorado Cross-Disability Coalition (CCDC) 1385 S. Colorado Blvd. Building A --Suite #610 Denver, CO 80222
Boulder People's Clinic: https://www.clinica.org/locations/peoples/
Craig Hospital: Family Support Programs. Medical professionals, such as Dr. Sanchez and Dr. Jose Reyes offer volunteer services, where they care for patients who do not have insurance.
Suggestions to move forward: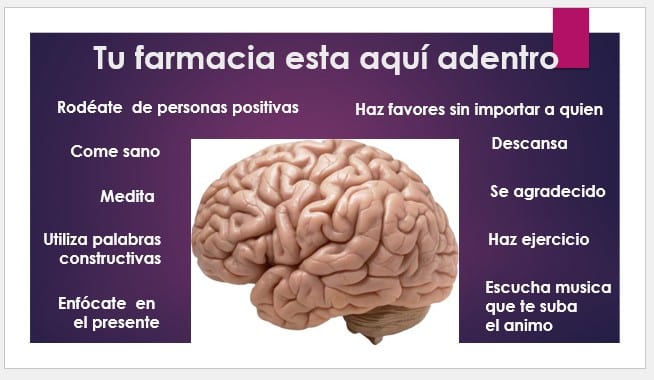 Your pharmacy is here inside:
Surround yourself with positive people
Do favors without regard to who you are helping
Eat healthy
Rest
Meditate
Be thankful
Use constructive words
Exercise
Focus on the present
Listen to music that improves your mood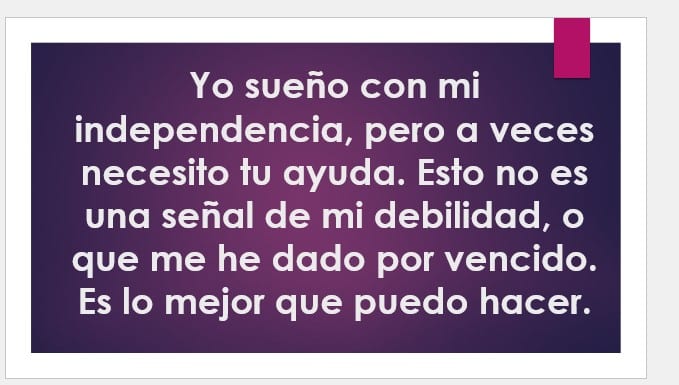 I dream of my independence, but I sometimes need your help. This isn't a sign of my weakness or that I've given up. It's the best I can do.
Next BIHF Survivor Series Event: October 14, Maneuvering Through Intimacy and Relationships with a Brain Injury, presented by Rita Coalson, MA, LPC, NCC, Psychotherapist.
SPANISH SPEAKING RESOURCE LIST
The following providers speak Spanish and provide healthcare services to individuals.  We do not endorse any particular providers.  Please ask the provider about insurance coverage prior to initiating treatment.
PHYSICIANS:
Oscar Sanchez, MD, FAAPMR Chief, PM&R service, Denver Health Hospital,  Asst. Professor, Dept. PM&R University of Colorado. Oscar.Sanchez@dhha.org
777 Bannock Street, Denver, CO  80204
NEUROPSYCHOLOGISTS:
David Mirich (Psychologist and Neuropsychologist) Independent Practice
2860 Ames Street, Wheatridge, CO 80214
303-824-0132
PSYCHOLOGISTS:
Jesus Sanchez (Psychologist) 357 McCaslin Blvd, Suite 200, Louisville, CO 80027
720-360-1801   Provides face to face treatment and Telepsychology, Independent Practice
Insurance:  Worker's Compensation and Private Pay
Idalia Massa-Carroll (Psychologist) Colorado Psychological Services, Independent Practice.
720-244-0201   Provides Telepsychology.
Insurance: Worker's Compensation and Private Pay
Yaira Oquendo-Figueroa (Psychologist) Salud Family Health Clinic, Vice President of Behavioral Health (yoquendo@saludclinic.org
303-827-2601
Lupe Ledezma (Psychologist) 7475 Dakin Street, Suite 620, Denver, CO 80221
303-913-2883
Insurance:  Worker's Compensation.
COGNITIVE AND LANGUAGE SPEECH PATHOLOGISTS:
Noelle Mitchell, M.A., CCC (Speech-Language Pathology and Cognitive Re-Training)
14143 Denver West Pkwy, Suite 100, Golden, CO 80401
Phone: 303-941-3485     Fax:  303-447-3122  noelle@neurocogtherapy.com
Insurance:  Private Pay, Some Insurances