Joanne Cohen is a board member of the Brian Injury Hope Foundation and a survivor of numerous brain injuries. The June 2019 Survivor Series was possible through a full grant donation from her family:   Dr. Steve and Debbie Cohen
A different vibe filled the air at the Survivor Series Luncheon on June 14, 2019, at the West Metro Fire Rescue Training and Event Center. Decorative cakes packed a table in the back, flowers flanked the panel's table, and live music resonated in the hall. A celebration awaited participants to the Brain Injury Hope Foundation's (BIHF) monthly informative session, facilitated by Becky Miller.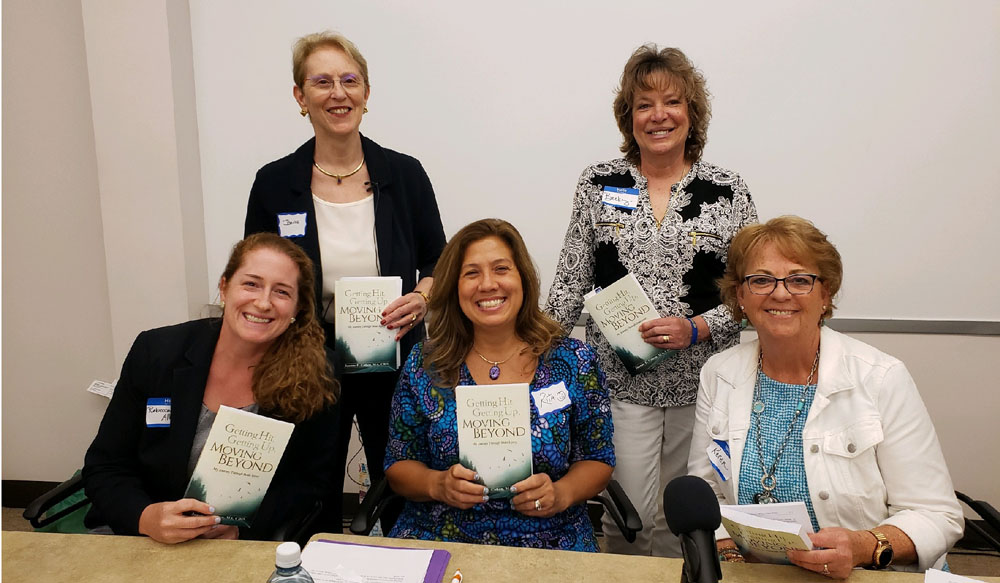 Yes, the BIHF loves to celebrate when people hit milestones in their recoveries from traumatic brain injuries, and it was time to celebrate Joanne Cohen's accomplishment of writing and publishing "Getting Hit, Getting Up, Moving Beyond: My Journey Through Brain Injury." It was a labor of love for Cohen, who wanted to leave a roadmap with numerous tools for survivors now and in the future.
"I never saw myself as a writer," Cohen said. "My partner of 21 years died two and a half years ago and she always had encouraged me to write this book. When someone you love passes away, you change and you grow. I felt compelled to write this for her and for you. I don't know what my exit plan will be, but I didn't want the 27 years of knowledge written in this book to go up in smoke when I'm cremated.
"It's a joy and a privilege to share this book with you," she said.
Keyboardist and Singer/Songwriter Karen Karsh, who put out her first record when she was 15, sprinkled in three songs, "Believe," "A Small Star" and "Bring it On," to celebrate Cohen's accomplishment and to motivate and encourage the 91 participants, our largest audience ever.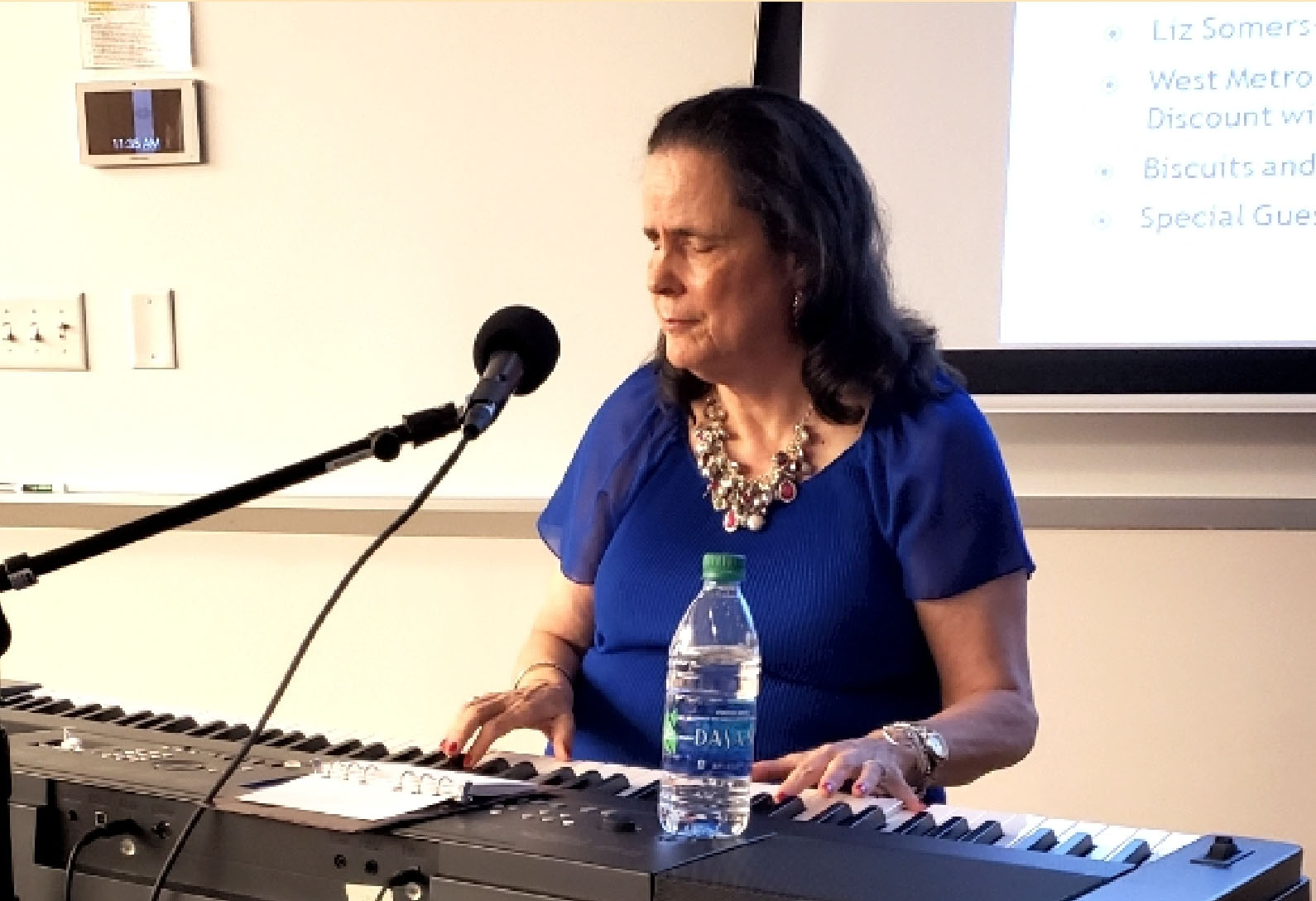 "Disability is an interesting thing," said Karsh, who was born blind. "I understand it from the inside out. It's a challenge. Even the smallest tasks you have to compensate. It's a different way of being. You have to thrive, not just survive. You have to make friends with your disability. There's nothing easy about it. Once you understand where you are coming from you can start to thrive."
© This song is an original written and sung by Karen Karsh
The book includes chapters on how to maintain a career after a TBI, how to navigate the legal system and pick an attorney when you have an "invisible injury," how to grieve the loss of your former self, how to gain re-empowerment, tips for self-care, along with details of Cohen's accidents and her path through numerous therapies.
"It was painful to go back and re-live the accident when I got hit by a cement truck going 60 mph in the Bahamas. I had to dig deep," Cohen said. "In Chapter 2 I had to get up and get off my story. I was stuck in my story, and it was not helping me anymore. I reveal what I learned from the accident in Chapter 3."
Cohen writes about her career path in Chapter 4 and details how she took jobs she used to do before the TBI and how she could no longer thrive on that path. She also discusses whether to reveal a TBI to your employer and what she did along the way.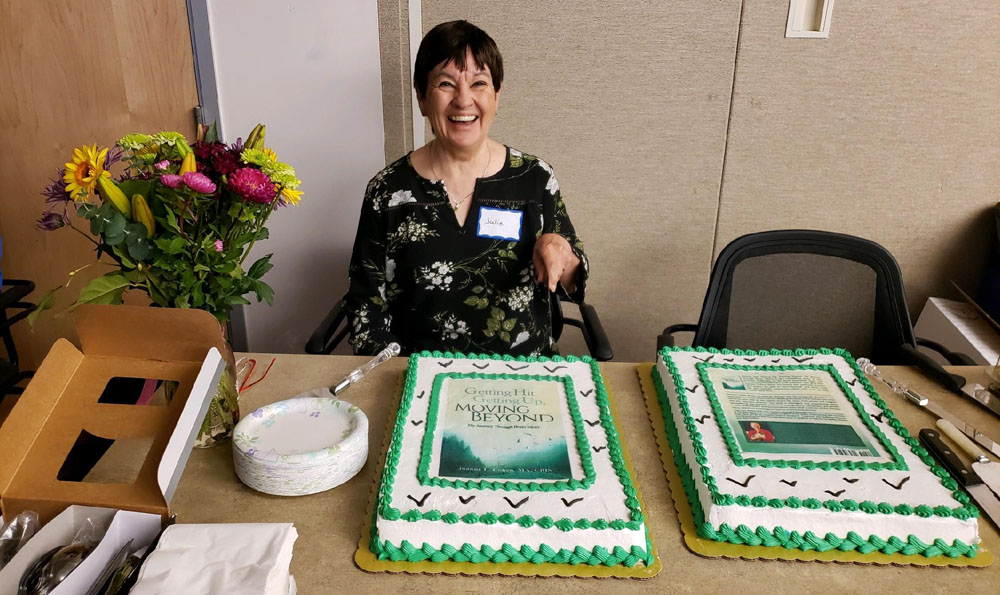 "I took jobs based on who I was prior to brain injury and not where I was post-injury," Cohen explained. "I would have brain fog and fatigue trying to work 60-hour weeks. It was a real struggle until I found work at a company where the boss was supportive, then a nonprofit with another supportive boss (now my business partner, Gayann!) and finally starting my own business with Gayann."
With three rear-end accidents in 2014 (Chapter 5)  Cohen had to rely on a legal system that is uninformed of the damage associated with a TBI, especially in people who look and act "normal" in public ("invisible disability"), and that prompted her to collaborate with attorney Rebecca Albano, Chapter 6.
"It's hard to prove a silent injury," Albano said. "The big thing that is missing out there is how to find a legal representative who can navigate the court procedures.
"The chapter is an insight into the legal system," she continued. "It might be a boring chapter to some, but if you pick the wrong attorney it can be a bit awful. How important are the questions you ask, and if your attorney is checking in with you--If they are willing to make you feel like a person and treat you as a partner in your own case. Especially with a TBI, an attorney has to have compassion and empathy."
Grieving the loss of your former self is a process that has to be dealt with in order to move on and survive. It is also crucial for your family members, friends and loved ones to grieve, too. Cohen turned to Rita Coalson, a grief therapist, to co-write Chapter 8.
The chapter reveals the different characteristics and categories of grief and explains the four tasks of grieving and the styles of grieving.
"I hope overall it is an education on grief," Coalson said. "Your life changes forever, and your family and friends have to change. Sometimes you don't know who you are. You have to create a new you.
"Our society doesn't like to deal with grief. Oh, there's a death in the family, you go to the funeral and you are back at work in three days. That's not an effective procedure. Then your boss or coworkers start wondering what's wrong with you. 'Hey, it's been a month now. Chop, chop get back to normal.'
"No one acknowledges you are grieving," she explained. "It's an adjustment, and you have to give yourself permission to grieve. It is OK. Be gentle with yourself. Grief is not for wimps. Brain injuries are not for wimps. This is what will empower you."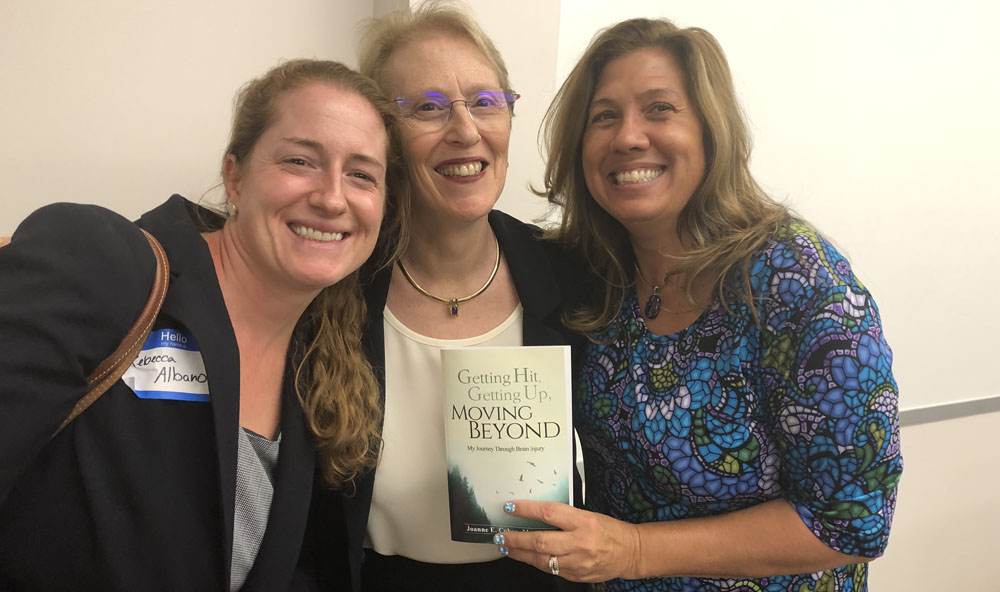 Cohen writes Chapter 8, where she is now, and the most vulnerable part of the book for Cohen is the Addendum, in which Cohen's friends, former co-workers and bosses detail the changes they saw in Cohen after her additional brain injuries in 2014.
"One of the writers didn't want to give me the letter," Cohen said. "I wanted people to be honest, to tell the truth, because people don't understand what we have gone through with these injuries. We look happy and normal …
"I put myself out there," Cohen said. "I saw Brene Brown on a Netflix and she talks about courage, vulnerability and your arena. It inspired me, and gave me the courage to publish this book and share it with the world."
Keren Kilgore, who rode point on the publishing process including editing, book and cover design, summarized the arduous task of writing a book.
"Joanne just wanted to write about the 13 keys to re-empowerment, but I told her she had to tell her story," Kilgore said. "You have to put yourself out there. I helped her organize it. … Then there is the process of rewriting, editing, rewriting again, editing, and proofing after it is laid out. It's a long process, but it's worth it."
And she encouraged all the participants to write.
"You have an important message to get out there. You have a unique perspective. Have the courage to do it."
You can order your copy of "Getting Hit, Getting Up, Moving Beyond:  My Journey Through Brain Injury, By Joanne E. Cohen, M.A., CBIS though Amazon or Barnes and Noble.
Barnes and Noble Download Link Below
Getting Hit, Getting Up, Moving Beyond: My Journey Through Brain Injury
Amazon Download Link Below
Getting Hit, Getting Up, Moving Beyond: My Journey Through Brain Injury
Contact information for panelists:
Rebecca B. Albano, Esq. 
Law Office of Rebecca Albano, LLC
1665 Grant Street
Denver, CO 80203
303.815.1592 P
303.815.1593 F
Rita Coalson, MA, LPC, NCC
Psychotherapist
Aloha Counseling Services
303-907-8973
Joanne E. Cohen, M.A., CBIS | Vice President
Brain Injury Hope Foundation
6732 West Coal Mine Avenue
Suite 227
Littleton, CO 80123
jcohen@braininjuryhopefoundation.org
720-389-0670
Toll Free:  844-444-4522
Becky Miller
Rae of Light Reiki
720-350-5053
By Eliza Marie Somers