Employers Tapping the I/DD Community Workforce
By Eliza Marie Somers
While many companies continue to have a difficult time finding reliable employees as the Great Resignation and COVID-19 linger, some employers are turning to the Intellectual and Developmental Disabilities (I/DD) community.
Along with finding eager people who want to work, employers discovered that hiring a diverse workforce helped their bottom line (profits), said presenter Cammie Cloman during the Community Counts! Inclusion in Employment seminars. The series, created by CTAT, LLC, in conjunction with the City and County of Denver, encourages inclusion for people with I/DD.
Cloman used the example of Walgreens as a company that expanded its diversity by turning to the I/DD community. Former Senior Vice President Randy Lewis during an address emphasized the key role workers with disabilities can play within all areas of a business.
"Most of us believe that people with disabilities cannot perform as well on the job as others.  At Walgreens, we found that to be untrue, and unfair," Lewis said. "We ended up hiring more than 1,000 workers with disabilities. We didn't lower the bar when it came to performance, but we did have to open the door wider to include those who are routinely overlooked. The results exceeded our wildest expectations."
For more about Randy Lewis and his work with the I/DD community
Cloman explained there are some core benefits a company can experience by expanding its workforce diversity, including problem solving.
"A diverse/inclusive workforce will have greater insights into how to engage that larger diverse customer base," Cloman explained. "To effectively reach a diverse customer base, the business needs to creatively look at solving their customer's problems."
Companies are using supported employment to find jobs that match a person's abilities and find candidates with disabilities that match job opportunities. But what is supported employment?
"What this means is this jobseeker has extra support by a professional employment specialist or job coach to help them find a job that matches their interests and skills, learn the tasks of the job, help them understand the routines, the culture, or whatever they need to learn to be successful in this job," Cloman said. "What this also means, is that if you are an employer you have an extra resource to ensure that the individual you hired is learning their job!"
An employment specialist or job coach can carve out or create a job that can work for the employer as well as work for the jobseeker with disabilities.
"We are not trying to make up a job, not trying to push somebody into something that the company doesn't really need. That's not what this is about," Cloman said. "This is about everyone finding a need and solving a problem for that employer, and thereby solving a problem for the employee who wants and needs the job. … And even though there is some support it's like everyone else's job."
The employment specialist supports the business as well as the employee. This support is typically provided by local human service organizations that receive funding from government sources such as the Division of Vocational Rehabilitation. There is no cost to the employer.
With the help of employment specialists, the jobs and careers for people with I/DD have expanded over the years. Cloman noted that for a long time it was thought that people with I/DD could just work in a kitchen or do janitorial work.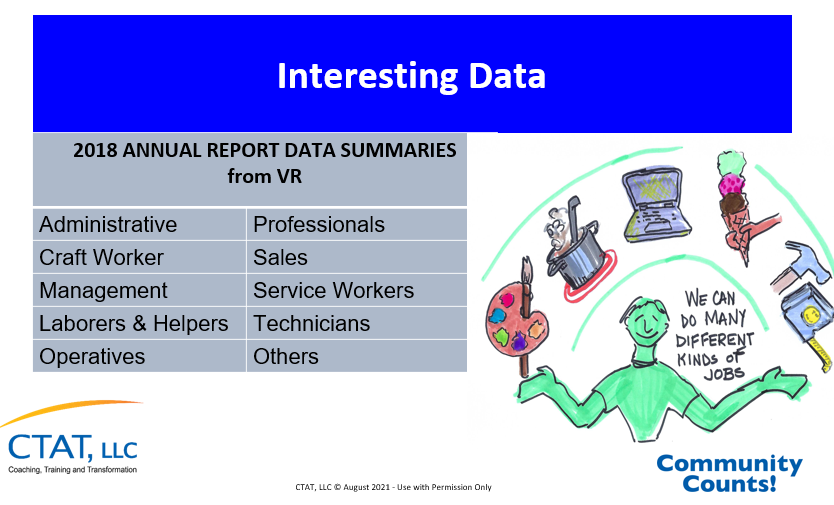 "We weren't being very creative and weren't thinking about all of the different things people might want to do. People are people, and they have different interests and different skills," Cloman said.
She noted William Kiernan, director of the Institute for Community Inclusion at the University of Massachusetts in Boston said in the last 10 years a much wider range of jobs have opened for people with intellectual disabilities, including people who are doing data collection at the UMass Institute.
The range of jobs the Community Counts! panelists with I/DD hold are just as vast. Some of the panelist and mentors are in leadership positions while others work at Access Gallery, the Wayfaring Band, Home Depot, Walgreens, Pizzability, Coors Field and at Empower Field at Mile High Stadium, to name a few.
Panelist Dan Barzen recently secured a job with Walgreens and enjoys the different tasks he undertakes.
"I'm on the floor helping customers and stocking; I'm a receiving clerk, and I help on the registers," he said. "I always thought I didn't like working with customers, but I like it. I like being helpful."
Barzen said his dream job is "bringing people to justice" akin to the reality show "To Catch a Predator." He is also interested in exploring a veterinary technician career or "doing something with psychology."
He also described a job that wasn't a good fit when he worked at the professional football stadium taking tickets and being an usher because of unruly behavior in the stands. Panelist Jake Miller said he also had a bad experience working at a large stadium because of the heat and the amount of people at a stadium.
Miller said his dream job would be a paraprofessional at a high school to help kids, and he would love to own a restaurant. He noted he has a passion for cooking and creating meals.
Chris Patton, a poet, started a T-shirt company, Lopsided Heart Creations  , in which he prints his prose on T-shirts and sells them at events, which allows him a chance to meet new people.
"People with I/DD are capable of many things, and are good at community. People with I/DD WANT to work," Patton said.
Mentor Jocelyn Roy advised employers to look at people with I//DD as individuals with unique skills.
"People with I/DD don't all have the same abilities. Don't compare people with I/DD with other people with I/DD. Jack and Jill might have the same disability but have different skills. Everyone learns and thinks differently," she said.
Panelist Brittany Murdock, who likes meeting new people and learning a variety of skills, advised employers to be patient and try not to "rush things
Miller agreed. "Help people with I/DD by being more understanding."
Barzen said employers should be accommodating but not treat people with I/DD like a child. "Don't patronize. What it says on paper doesn't define what they can do. Be supportive and never judge a book by its cover. Never set too low of expectations for people with I/DD. We can do incredible things."
Contacts to reach new employees include: