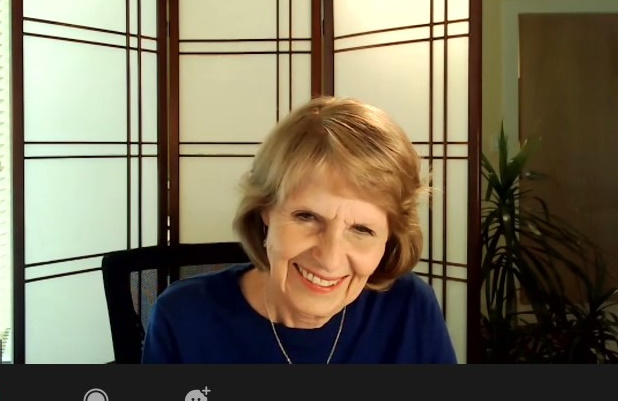 BIHF co-founder Dr. Mary Ann Keatley notes that Our brain is like a radio dial, and after a TBI, many survivors say they feel like they are in a fog because of being in this state called theta. 
Brain Injury Survivors Experience "Greater Calling"
By Eliza Marie Somers
"If you had the opportunity to relive the experience of having a concussion and learning life's lessons from it, would you do that?"
You may be wondering: Who in the world would ask that question of a brain injury survivor.
Well, that's exactly what Brain Injury Hope Foundation co-founder Dr. Mary Ann Keatley asked her patients when they completed their therapy. And more surprising were the answers Keatley received.
Every one of her patients, except for one, said YES, they would experience their concussion over again, Keatley explained. Then added the one patient who did not say yes called her a few years later and sure enough the patient said, Yes, she would live through that experience again.
"People expressed that they were willing to experience that again because they felt it set them on a deep path of spiritual wisdom, and helped them gain compassion for others. It provided a different level of consciousness and they had faith that things were going to be OK," Keatley said at the Oct. 8, 2021, BIHF Survivor Series: Spirituality and Creativity: Pathways Following Brain Injury.
Joining Keatley at the free virtual event were Carole L. Billingham, M.A. Master Certified Coach; Deborah Schlag, Awakenings Center, and Danielle Meyer, Ph.D., Coaching and Wellness, all of whom suffered brain injuries in their lives.
"The car accident saved my life. It changed everything," Meyer said. "I left a relationship, and in the next five years I went from surviving to thriving. I got a doctorate in spiritual science."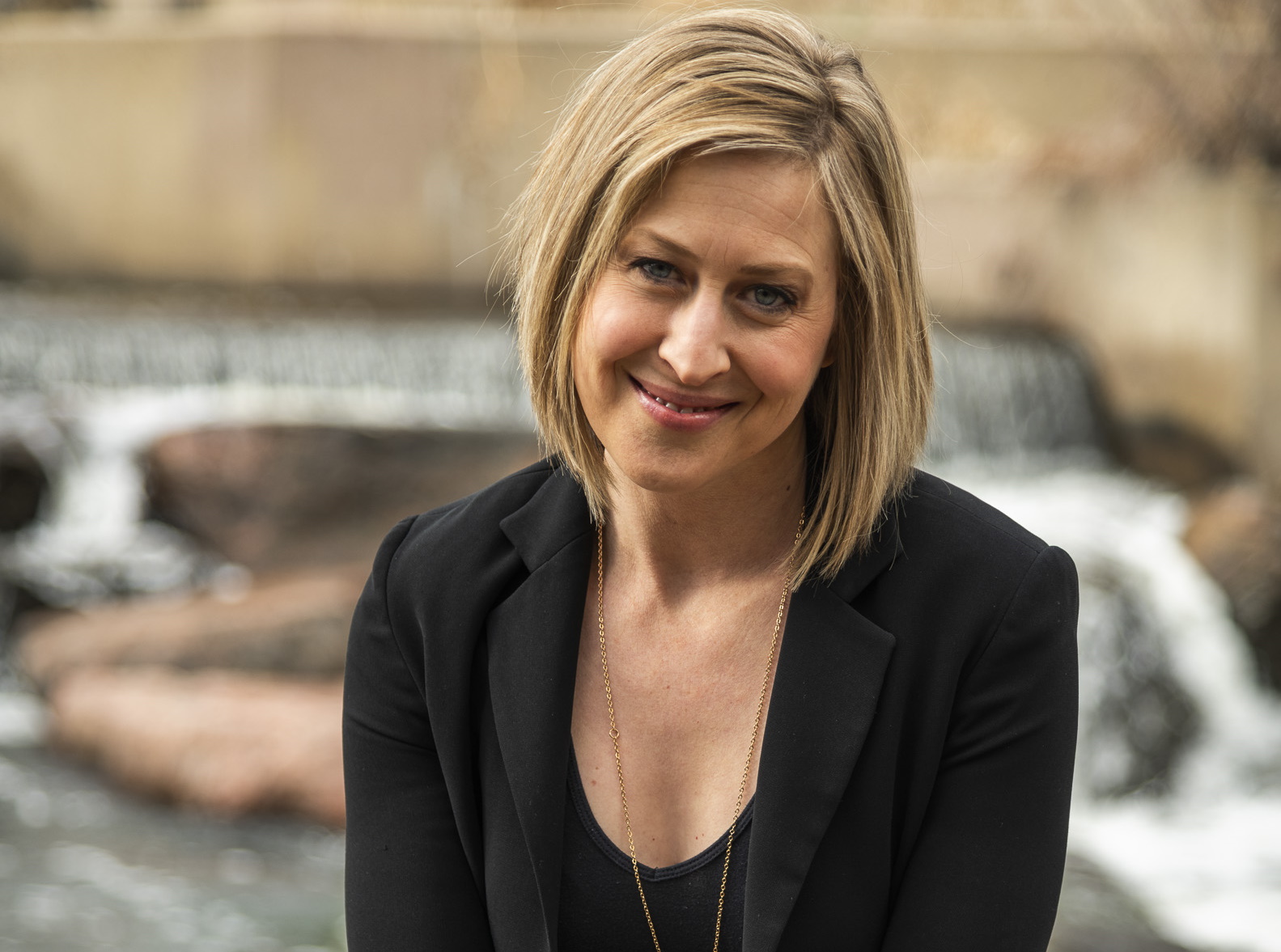 Danielle Meyer's life took a 360-turn after her brain injury. She now is a Brainspotting practitioner and earned a doctorate in spiritual science.
Before the car accident, Meyer was a commercial interior designer working 50-60 hours a week. Now she is a trained Brainspotting practitioner and helps others navigate a successful recovery by providing a combination of holistic and spiritual techniques that helped heal her injuries. She can be reached at https://www.danielleneva.com/
Before her car accident, Billingham was a stockbroker and focused on the material world, however, the accident moved her to a spiritual and business coaching career to serve others. She can be reached at https://wisdomcoach.com/about.html
"I live a more balanced life," she said. "When I was in the ambulance, I was on the verge of panicking or praying. And with the Law of Attraction, I knew I had a role to play in co-creating. Is there a reason for the car accident?"
"I learned how to slow down, how to receive because there was a belief that I didn't think I was worthy. And it gave me a chance to heal from the trauma from adoption."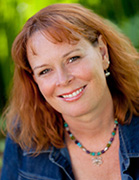 Before her TBI Carole Billingham says she was focused on the material world. She is now specializes in spiritual, executive and business coaching.
Schlag said she had always been on a spiritual journey, and after the brain injury her journey opened up, and her spiritual experiences became more frequent.
"This (TBI) opened me up to how big this journey is; I had never really acknowledged it before," she said. Schlag went on to open Awakenings Center for Inner Healing & Empowerment in North Carolina, where the mission statement includes: Our goal is to maintain a sacred space and vibration that allows transformation to happen. Here is a link to the center's website: https://awakeningscenternc.com/
"We listen to Spirit for what's best for that person," Schlag said.
An Altered State
Keatley said that following this type of injury the brain may access other frequencies that allow the individual to see things differently, and provides a time for the brain to rest and heal. With "neuroplasticity, we have the ability to develop new neural pathways."
Following a brain injury individuals are oftentimes more sensitive to other frequencies of sound and light. And some say they can even hear the frequencies of fluorescence lights; or hear sounds of things that they couldn't before."
Keatley explained the brain may be in a theta state called hypnogogia when it is healing. It's the state we are in when we are in between wakefulness and sleep. It is also the state of creativity, meditation, prayer and may provide a link to spiritual awareness.
"Our brain is like a radio dial," Keatley said. And after a TBI, many survivors say they feel like they are in a fog because of being in this state called theta.
Brain Frequencies
Delta 2-4 Hz – Deep sleep
Theta 4-7 Hz – State between wakefulness and sleep
Alpha 8-12 Hz – Alert while reading or eyes closed thinking
Beta 15-18 Hz – Focused concentration
Meyer said her spiritual experience after a TBI is not just one story.
"There's a whole loss of self," she explained. "Every descriptor, adjective, of your life is stripped away. I was an athlete, a designer, a wife. I had high energy. All I was left with was my spiritual belief: Everything happens for a reason. All that was left was my core."
"That's what drove me to the 'other side.' A belief in something bigger than myself that kept me going."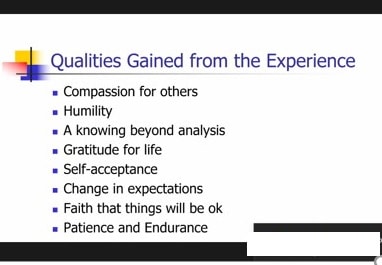 Five years after Meyer's brain injury, her father had a stroke, and because of her injury she was able to provide a deep understanding and help with his caregiving. "I could speak to him like no one else could," she said.
Schlag went swimming with dolphins to help in her recovery. Dolphin-assisted therapy became popular in the 1970s after anthropologist Betsy Smith noticed wild dolphins became gentle when near people with physical and mental disabilities. National Geographic recently delved into the topic of dolphin-assisted therapy. Here is a link https://www.nationalgeographic.com/animals/article/inside-the-murky-world-of-dolphin-therapy
Schlag explained one of the dolphins led her away from the other people in the group. "This one dolphin stayed with me the whole time," she said. "I was magnetized by the eyes. It was instantaneous what I could do after I was out of the water.
"Before, I could not look across the table and talk with someone because of my sound and light sensitivities. After swimming with the dolphins I was able to look out the window of the airplane on the way home."
Billingham said, "The person I am today is very different from who I was. I'm living for a bigger purpose. My spiritual journey is an important part of who I am."
Schlag added, "The injury does not have to define you. You can go on to live a happy successful life. Don't look back, look forward."
In addition to developing compassion and learning about a new sense of self, many individuals develop high levels of creativity.  Dr. Keatley gave examples of individuals who became accomplished artists, writers, musicians, actors, etc. following their injury. This is a time when a new sense of creativity is often born.

Dr. Ricardo Esparza says TBI survivors must honor their grief.
Dr. Ricardo Esparza, a clinical psychologist, noted brain injury survivors have a difficult time relaying their injury and symptoms to their caregivers and doctors.
"How can I communicate what I am going through so (the doctors) understand?" Esparza said of a TBI survivor. "They get lost in the system. The person is often grieving and mourning who they used to be. They are going through depression, anxiety and frustration."
Brain injuries are often called the invisible injury, and spiritual and business coach Carole Billingham said that at times survivors can start to doubt their symptoms.
"You look fine so you start thinking, Am I making this up? Is this real or am I being lazy?" she said. "Grieving is so important. We don't grieve in our culture, and that makes it more confusing. We have to learn how to be in our bodies, and that includes sadness."
Survivor Series facilitator Joanne Cohen added, "You've got to not buy into 'Are we ever going to be who we were prior to the injury." She also stated survivors need to find caregivers who resonate with their path.
For more on grieving after a brain injury see https://www.braininjuryhopefoundation.org/benefits-of-counseling-after-brain-injury/